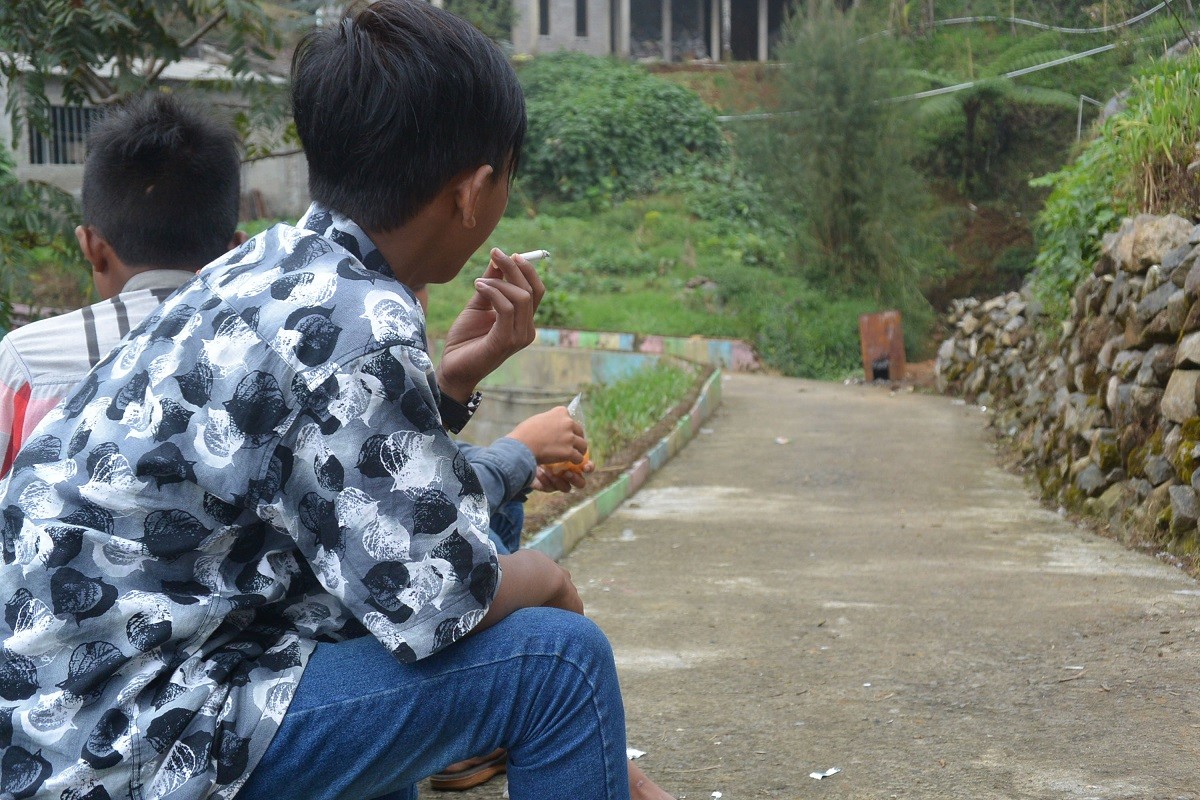 Despite how alarming it sounds, it isn't uncommon to see children as young as in primary school smoking cigarettes in rural areas of Indonesia. Technically, the legal age to purchase cigarettes is 18 years old in Indonesia, however the industry still remains heavily unregulated, with no penalties imposed on retailers who sell cigarettes to minors.
In some places such as the tobacco producing village of Magelang, Central Java, smoking 'kretek' (cigarettes made with a blend of tobacco, cloves and other flavours) has become a passage of right for young boys, as many have received packets of cigarettes as a gift for circumcision, as some cultures in Indonesia regard circumcision as the mark of when a boy becomes a man, with boys as young as nine years old receiving this gift from their fathers. The long-standing tradition, coupled with regional revenue from the tobacco industry, has made regency officials hesitant to send a strong message against tobacco control in the area (Ayuningtyas, 2018). Therefore, there is a place of conflict in enforcing tobacco control in the area due to the fact that "on one hand smoking is a part of the culture in the village. On the other hand, these children have to get help to quit smoking" (Rusdjijati, 2018), as the chairperson of Magelang Muhammadiya University's Tobacco Control Centre Retno Rusdjijati discussed how cases like these put tobacco control campaigners in a dilemma.
The main factors which impact the high number of children smoking are the social and cultural influences particularly if their parents are smokers, and the easy accessibility and affordability of cigarettes; an individual cigarette being as cheap as $0.07 and a pack of 20 Marlborough cigarettes priced at around $1.55. The Global Youth Tobacco Surveys (GYTS) conducted in Indonesia, along neighbouring countries found that the prevelance rate among youth in Indonesia is much higher than that of neighbouring countries, with the the prevelance rate being 22% in Indonesia- a much higher contrast to the 9% in Singapore and 5% in China (Martini and Sulistyowati, 2005). The youth smokers interviewed in the GYTS had said that 69% of them had purchased cigarettes from stores, and 72% said that they had never been refused the purchase from cigarettes from retailers. If this already wasn't alarming enough, a further 13% said that they were offered cigarettes by the tobacco industry, which often holds promotional activities at malls and entertainment centres, including offers of free cigarettes to young people.
References
Wibabwa, T, 2019, Tackling Indonesia's smoking addiction a 'double-edged sword', ABC News, https://www.abc.net.au/news/2019-09-01/tackling-indonesias-smoking-addiction-harder-than-it-seems/11430638
Tjandra, N, 2018, 'Disneyland for Big Tobacco': how Indonesia's lax smoking laws are helping next generation to get hooked, The Conversation, https://theconversation.com/disneyland-for-big-tobacco-how-indonesias-lax-smoking-laws-are-helping-next-generation-to-get-hooked-97489
Martini, S, and Sulistyowati, M, 2005, The Determinants of Smoking Behavior among teenagers in East Java Province, Indonesia, World Bank, https://openknowledge.worldbank.org/bitstream/handle/10986/13781/347660IND0YouthSmoking0HNP0Tobacco032.pdf;sequence=1
Ayuningtyas, K, 2018, In this tobacco village, smoking 'kretek' is rite of passage, The Jakarta Post, https://www.thejakartapost.com/news/2018/07/25/in-this-tobacco-village-smoking-kretek-is-rite-of-passage.html
Aditama, T.Y, year unknown, Smoking problem in Indonesia, 52 Article Text, file:///Users/naomi/Downloads/52-Article%20Text-101-1-10-20130310.pdf